Re: Brisbane Training day on THIS SUNDAY 7th Dec
Yeah..we are going to spend the day discussing how our radically different hull shapes make us sail fast....NOT!!!!...

In fact the Queensland fleet is going to train hard, practice dillegently all day giving 100 percent, push each other to sail faster and faster, help the learners and listen and learn from an experienced 125 National Champion Chris Anderson.

This is how you learn to sail fast...by training with experienced sailors and this is how QLD has been preparing for the upcoming Australian Titles. This is why QLD has performed so well at past Australian Titles and believe it or not has little to do with hull shapes or 'pear shaped' masts..:)






Re: Brisbane Training day on THIS SUNDAY 7th Dec
Confused....you are clearly confused.

Training hard = winning.
Training hard makes you a champion sailor.
Champion sailors can sail in ANY BOAT with ANY MAST and will still come out on top.

Still confused??? I invite you to come down on Sunday and train with the Queenslanders and learn from Chris.(whose 'big secret' to becoming a champion is hard work and dedication, not hulls shape or pear shaped masts)


Re: Brisbane Training day on THIS SUNDAY 7th Dec
well if you are so sure that your different rigs make absolutely no difference at all why don't you turn up to the next nationals with the LEGAL!! standard rig and prove to us that the your rigs make no difference and tath it is all your training.


Re: Brisbane Training day on THIS SUNDAY 7th Dec
Mitch
Darling Point Sailing Squadron is at the northern end of manly boat harbour, at the Queensland Multihull Yacht Club (QMYC) clubhouse. Right next to the Manly Coast Guard. Hope to see you there.


Re: Brisbane Training day on THIS SUNDAY 7th Dec
ive sailed 125,s on and off for 10 yrs. Have been to nationals and state titles I am from nsw. have a look at the likes in my state of luke Johnson, Trevor Larance, grahem brown. the results for them come from yrs of practise., I sail on weekends day of race only. I pefer to turn up have a race go home. I dont get the results because i dont put the effort in to train. watch the tops sailors the boat and crew work as one. Its not the rigging or the boat has a waterline length of 2 mm longer then yours. or the chines are slighty more curved.You could have a full carbon boat that weighs what 35kg rigged and they could be in an old wooden waterlogged boat and still be able to beat you beacuse they have sailing skills that you only get by lots practise.
stop bl;aming the boats and start thinking about what you do as a sailor on the water.


Re: Brisbane Training day on THIS SUNDAY 7th Dec
I couldn't agree more NSW Sailor! I believe that it has more to do with the people sailing the boat than the boat itself. I mean, I had the opportunity a while back to sail with one of the best sailors in the state in his boat (I skippered) and we came mid-fleet (which is where I usually place in my boat). The next week he sailed his boat and won the race. That's because he is a better skipper than me, he has more knowledge of the conditions and the location than me and better boat-handling skills than me. Not because his boat is some magically fast hull - he makes it go fast. It's not the boat.

People like that have spent so much time on boat set-up - everything in the boat is fine-tuned to suit them, they know where it all is and it all works for them and how they sail. They have also spent so much time working on their skills and boat handling and that is why they are in front.

Greg R, I've been to a few nationals and I'm not sure if we've met - what boat do you sail?


Re: Brisbane Training day on THIS SUNDAY 7th Dec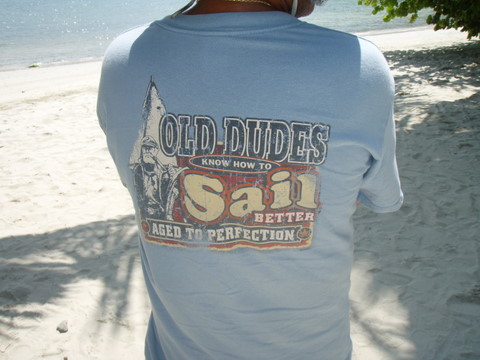 Thanks Chris for a great morning of training. I am sure all that attended have absorbed your words of wisdom. Thanks to North Sails for the use of the in(de)flatable. If anyone else would care to add their thanks please feel free.


Re: Brisbane Training day on THIS SUNDAY 7th Dec
Thanks Chris for giving up your time to train the 125's. We all appreciated it and we know how busy you are. Very worthwhile we all learnt something. And the turnout of 15boats goes to show how much we all respect you as an experienced sailor and value your input.

Thank you to Norths for the use of the rubber duck. Thank you to DPSS for hosting the training day.

OH and goodluck at the Cherub Nationals to Chris(and Andy) over Christmas.