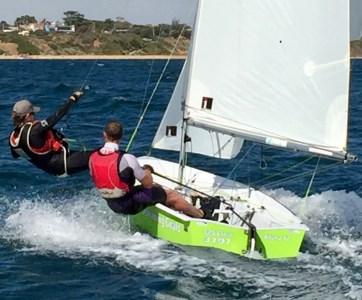 125 Discussion Forum

Hull Paint
Can anyone recommend a 2 part paint for painting the hull ? I have looked at International Paints but they are very expensive.


Re: Hull Paint
I use a paint by Norglass 'northane' I think it is called
Their webpage is,
http://www.norglass.com.au/

I buy it from Bias boating warehouse in Brisbane. it is a very good paint my last 3 125's have been painted using it. It gives a good finish that is really hard (I had to sand one boat back, it used up half a roll of 180 grit sandpaper!). it is cheaper than international and probably gives just as good a finish.

As always ask the staff at your local chandelry, they are always helpful.

If you are in Brisbane contact either my self or another memeber of the committe and we will point you in the right direction


Re: Hull Paint
A couple of questions - Did you spray or brush ? How many litres does it take to paint a 125 ?


Re: Hull Paint
Robert,
The best source of information is the manufacturers literature. International has a few very good how to guides (they are relevent for the norglass products as well)

Firstly, if you are painting a timber boat I would speak to the paint manufacturers, as usually a 2 pack paint is quite hard and wont flex, and as timber boats tend to flex quite a bit, so the 2 pack may crack, but this is something to ask at the chandelry/paint manufactures.

My boats have been sprayed, this is a bit tricky, so some practice is required. My dad has painted all of my boats and it has come up a treat. We always spray the paint to give a good finish. Brushing is never quite as good.

As for the quatites,
The cockpit, you need just over half a litre of undercoat, half a litre just doesnt go quite far enough! and about the same of top coat

For the hull, I usually use 1 litre of underocat put on in 2 coats. the first coat goes on quite thickly, any remaining holes/dings/scratches are filled and then the whole hull is sanded back with fine (240 grit) wet and dry. you then apply the second coat of undercoat to cover up any bare glass or spots where the undrcoat is thin. Dont use too much, remember that 1 liter of paint is probably at least 1kg of weight! Then you do a final wet and dry sand with 240/400 wetand dry to get a really smooth finish. dont go for the mirror finish, as the paint might not stick.

Then the top coat, again half a litre is ok if you are really good with the spray gun, otherwise you will need a bit more.

Please feel free to email me if you have any further questions or you would like to discuss

Cheers
Grant


Re: Hull Paint
Robert
Don't waiste your time with marine paints. Use car paints they flash off in about five minutes compared to forty or fifty minutes. Go to your local panel beater / spray painter and see if they have any left overs, they may even spray it for a good price. In marine paint you pay for characteristics that are not needed on 125s. So ask your local painter what he would recomend


Re: Hull Paint
norglass is very good if you want to put not much on (lots of pigment)

ppg is the most expensive, (auto paint) which is very very good.

motospray has come a long way in the last 10 years. its marketed as the poor mans ppg.

dulux luxathane is very cheap... and not too bad


Re: Hull Paint
Plenty of good advice above! If a timber hull -use a softer ordinary enamel.If a glassed hull& if you can get a 2-pack paint cheap some way -then use that.If you have to buy at retail price -buy Northane - it is cheaper than most and better than any. Its formula was developed by Dulux about 30 years ago as an industrial coating for 'readymix' cement trucks to withstand the abuse that no other paint could - so plenty of 'concrete evidence' there of its toughness,hardness,chip & chemical & water resistance! Sins then, have tried others eg.Acran,Luxathane,International,etc.,even Sterling (U.S. aircraft paint, but Northane is superior in every aspect. Usually spray but can brush/roll the inside(Norglass make a brushing thinners for it as do Sterling for theirs.By far the best info & detail on prep. etc is in Sterling's Linear Polyurethane Coatings - Marine Applications Guide (IMTEC Holdings Aust.)
John Ando.


Re: Hull Paint
hi all . dulux weathersield x 10. pink primer 1 st. 3 coats of paint , sand between coats .roller works fine 2 hours between coats.
kitten car polish keeps it slick. look after it and it will last 45 summers .i sailed mine for 3 and it sat under a pine tree for four years (covered ) .before a re paint its only a $800 wooden boat(125)

Return to the Forum List
Add a message to this discussion
Measurer's Forum
Committee's Forum