Legendary 125s
So what is the most legendary 125.....who has stories about their favourite boat?


Re: Legendary 125s
Wouldn't Flying A be number 1 from stats? Same boat winning 5 titles...
Yep, madcow would be there too given the copies from her.
What about 1770 kinderpanzer?
Love to hear stories about these boats shared. Ie builders, from the sailors etc.


Re: Legendary 125s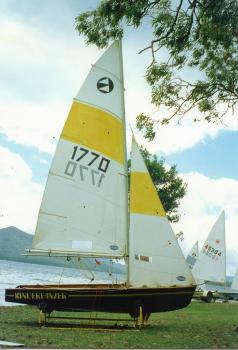 I was fortunate to own Kinderpanzer (#1770) c1990-91. Link below of Cec & Robby Lea at their home in Brisbane Jan'91, with Kinderpanzer (previously known as Robby VII) winner of 3 National Championships - built by Cec in early 1980's and skippered by son Robby. They built 125s originally called "Robby I" to "Robby VII". Boat names included: Banana Split, Haliastur, Problematic, Turbo; Robbie VI became Seahorse; Robbie VII became Kinderpanzer. Photo taken by me on my return trip from Perth Nationals to Cairns.
https://www.facebook.com/photo.php?fbid=266080756371&l=730df09334


Re: Legendary 125s
In the west there is 2 boats.
2851 Flash As A Rat With a Gold Tooth
&
2841 Quasar might also be considered.

But I thinking Flying A wins but a mile.




Re: Legendary 125s
Quasar won the 1990/91 Nationals and 5 or 6 States....I think they used the same mainsail for all those wins. Mark & Denise also won the 1985 Nationals in Sirocco 2105.
Flash was legendary for its speed in a breeze. Dead unlucky not to win in 1990/91 and perhaps the following year.
Flying A on numbers a clear standout and for two different helms.
Consuming Passion 3050 (Ply Boat) has become legendary in WA for light wind speed, winning the last heat at this years States...the last ply boat to win a State Championship Heat in WA was at least 7 years ago.


Re: Legendary 125s
3100 Lime Dash 2 Also deserves legend boat status in WA
Last WA boat to win a Nationals 2001
Won 3 or 4 States with 3 different helms
Its sitting in a shed in Geraldton just waiting for someone to sail it!


Re: Legendary 125s
I have been sent this message from past 125 National Champ Rod Smith:

Hi Andrew just saw your little message on the 125 forum! I don't think I can post on the forum so will send this in the hope you can post...I won the Nationals in 1982 in Kinderpanzer with my little sister Pru, one of the loveliest dinghies I've sailed. Pru was so tiny we dropped the kite pole fitting lower on the mast so she could reach it!!!! On the shy reaches she'd nearly get flogged off the trapeze so I'd hold the kite to stop her flying off into the ether. Yes Kinderpanzer was Robbie VII before we named the boat Kinderpanzer and got Robbie Lea to do the retro 20s type face name. It took him hours - he was practising to become a signwriter and offered to do the name, i think we stretched the friendhip. The boat was stiff and fast as you know - we got 4 bullets plus I think a second, 3rd and 4th in the Nats. The year before, I think Robbie won every heat.Jack Hamilton cut the sails, the sail logo was a blue bell - even though he'd been taken over by Hood, we insisted he put his personal bell logos on....he was chuffed :) I'm now sailing a Laser at Brisbane Sailing Squadron. It was going to be Kinperpanzer 3 but the transom's too small....!