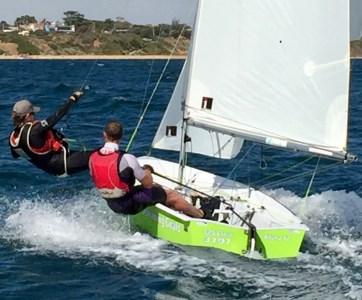 125 Discussion Forum

OutBoard on a 125
Has anyone used a small outboard on a 125? I am looking to modify my transom to manage a 4HP 28Kg Yahama outboard. This could extend the versalitility of the boat for family / fun situations, or even allow some safety when sailing outside of Club situations. Any thoughts or input?


Re: OutBoard on a 125
4 hp sounds large and heavy for a 125. If you are buying a motor, 2 hp might be more suitable. Being lighter and with less power, you won't need to strengthen the transom as much. There are some very light small outboards available that would suit a small sailing dinghy. Beware of modifications that make the boat ineligible to race as a 125. It will make the boat harder to sell.

You might consider an electric motor too. I believe some are waterproof. Capsizing a dinghy with an outboard can become an expensive repair exercise.

Also avoid the trap many people have fallen into and make sure the rudder won't swing far enough to touch the propellor.


Re: OutBoard on a 125
I was reading some very old correspondance & newsletters over the weekend. They suggested a piece of timber (thinkness of the current transom stiffener eg 18mm) placed across the full width of the transom and cut to fit around the tanks. This could beheld in place by the clamps of the outboard itself. All this applied to a timber boat, and of course the boat will have gussets at the transom/gunwale corner

Return to the Forum List
Add a message to this discussion
Measurer's Forum
Committee's Forum