rigging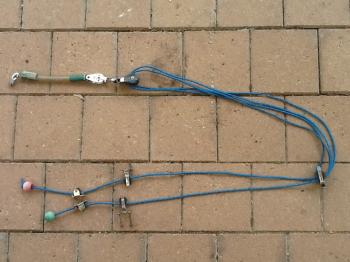 I have almost finished a fairly major renovation of #1433. I took photos of every component before removing anything. Unfortunately the comuter the photos were on has died. This picture shows the last significant rig to fit and I cant remember how it fitted. I think the balls were either side of the centrecase but I have epoxy filled the holes and being an old boat there are several in that area that have been used then re filled over the years. Where the rest attaches I am not certain... Thanks in advance.


Re: rigging
looks like its either a double ended cunno or outhaul....would drop as a single line from the boom/gooseneck area, then splits into two tails after passing through forward end of centrecase, then cleats each side of the case so it can be adjusted while sailing on either tack....not 100% sure but that would be my guess


Re: rigging
Thanks Andrew. I'll follow that idea up. I'm probably best to get the mast and sail up and have a look at the fittings there then. The single end has s lip in metal fitting, so I guess I need to see what that fits in to and then route the rest from there.


Re: rigging
It is a boom vang.
The slip in part of the fitting will fit into a matching part (key slot) on the underside of the boom approx. 500mm aft of the gooseneck.
The second pulley with multiple purchase attaches, with probably a shackle, to either the mast step or the hull adjacent to the mast step. This will go through the becket opposite the single rope attachment.
There are 2 turning blocks to fasten either side of the centrecase top timbers.
The cleats go onto either side of the centrecase top to enable easy adjustment on either tack.