---
2019 Qld State Titles Maryborough Sailing Club
Another state titles done and dusted for the QLD 125 family. Special thanks Maryborough Sailing Club, Ronstan and Boatropes.com.au for their support. Final results are as follows:
1st Place and Jan Seto Memorial Race winners: Pigs in Space Too - Chris Mann and Luke Johnson
2nd Place and Junior Champions: 'J' - Angus Sherring and Luke Richmond
3rd Place and Masters Champions: Waterloo - John and Jack Anderson
1st Place Handicap and first Lourdes Hill College boat: Roche Racer - Hannah Thorpe and Laura Mckay
2nd Place Handicap: Apollo - James Beveridge and Will Reed
3rd Place Handicap: Sticky Moments - Connor and Chris Eaton
Brenda Steinback Memorial Trophy and Colouring Card Competition Winner: Feel Good Shift of Summer - Morgan, Lana and Jordi Oakley
Full Results
QLD 125 State Titles 2019 Scratch Results - Maryborough Sailing Club

Fleet

SailNo

Boat

HelmName

CrewName

Club

R1

R2

R3

R4

R5

Total

Nett

A Div

3198

Pigs In Space Too

Chris Mann

Luke Johnson

PCSC

1

1

1

1

(14 DNF)

18

4

A Div

3125

J

Angus Sherring

Luke Richmond

DPSS

2

2

2

(3)

1

10

7

A Div

3121

Waterloo

John Anderson

Jack Anderson

DPSS

3

(5)

3

2

2

15

10

A Div

3201

Pigs In Space Too Too

Peter Mann

Alexa Mann

PCSC

4

3

4

(5)

3

19

14

A Div

3025

After Thought

Caleb Palmer

Keely Strauss

BSS

(7)

4

5

6

4

26

19

A Div

3117

Apollo

James Beveridge

Will Reed

MooYC

8

6

8

4

(14 DNF)

40

26

A Div

3115

The Feelgood Shift of the Summer

Morgan Oakley

Lana and Jordi Oakley

PCSS

6

7

6

7

(14 DNS)

40

26

A Div

3082

She Waits For No Man

Catherine Colbert

Jessica Vanden Berg

LHCSC

5

(9)

9

8

6

37

28

A Div

3129

Roche Racer

Hannah Thorpe

Laura McKay

LHCSC

9

10

(11)

9

5

44

33

A Div

3142

Limited Edition

Hannah O'Gorman

Dean Steinback

BSS

(14 DNF)

8

7

12

14 DNS

55

41

A Div

2980

Sticky Moments

Connor Eaton

Chris Eaton

OSC

(14 DNS)

12

12

10

7

55

41

A Div

3116

Nikita

Natarsha Moloney

Megan Strauss

BSS

10

11

10

11

(14 DNS)

56

42

A Div

3159

Osterley

Jessice Bidden-King

Caitlin Healy

LHCSC

(14 DNS)

13

14 DNF

14 DNF

8

63

49

QLD 125 State Titles 2019 Handicap Results - Maryborough Sailing Club

Fleet

SailNo

Boat

HelmName

CrewName

Club

R1

R2

R3

R4

R5

Total

Nett

A Div

3129

Roche Racer

Hannah Thorpe

Laura McKay

LHCSC

1

1

-12

4

1

19

7

A Div

3117

Apollo

James Beveridge

Will Reed

MooYC

6

2

3

1

(14 DNF)

26

12

A Div

2980

Sticky Moments

Connor Eaton

Chris Eaton

OSC

(14 DNS)

4

5

3

2

28

14

A Div

3025

After Thought

Caleb Palmer

Keely Strauss

BSS

-7

3

6

6

3

25

18

A Div

3115

The Feelgood Shift of the Summer

Morgan Oakley

Lana and Jordi Oakley

PCSS

2

8

4

5

(14 DNS)

33

19

A Div

3121

Waterloo

John Anderson

Jack Anderson

DPSS

8

-11

8

2

5

34

23

A Div

3116

Nikita

Natarsha Moloney

Megan Strauss

BSS

5

9

1

10

(14 DNS)

39

25

A Div

3082

She Waits For No Man

Catherine Colbert

Jessica Vanden Berg

LHCSC

3

-13

11

7

7

41

28

A Div

3125

J

Angus Sherring

Luke Richmond

DPSS

9

6

7

-11

6

39

28

A Div

3198

Pigs In Space Too

Chris Mann

Luke Johnson

PCSC

4

7

10

9

(14 DNF)

44

30

A Div

3201

Pigs In Space Too Too

Peter Mann

Alexa Mann

PCSC

-10

10

9

8

4

41

31

A Div

3142

Limited Edition

Hannah O'Gorman

Dean Steinback

BSS

(14 DNF)

5

2

12

14 DNS

47

33

A Div

3159

Osterley

Jessice Bidden-King

Caitlin Healy

LHCSC

(14 DNS)

12

14 DNF

14 DNF

8

62

48
---
2018 North Queensland Titles
In just over a months time, the Queensland 125 Association will be hosting the 2018 North Queensland Titles in Townsville in conjungtion with the Townsville Sailing Club. We would love to see as many boats there as possible supporting local sailing and the Townsville Sailing Club. Please get in contact with the association for any further information.
---
Humpybong Sailing Club WinterBash 2018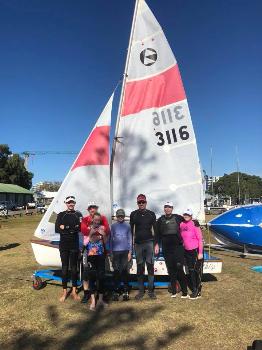 On the 28th and 29th of July, four of the Queensland 125 Fleet participated in the annual Humpybong Sailing Club WinterBash in preparation for our upcoming Nationals held at the Club. With not much wind around, all four crews showed incredible determination to finish all the courses, especially the marathon race on Sunday, a whopping 22km race, and kept up with the strong fleet of lasers. All crews had a wonderful time and cannot wait to spend time down at the club at the end of the year.
Results are below:
1st Place: Pigs In Space Too - Chris Mann and Luke Johnson
2nd Place: "J" - Peter Mann and Alexa Mann
8th Place: After Thought - Hayden Barney and Keely Strauss
13th Place: Nikita - Natarsha Moloney and Megan Strauss
3 Can Bash - Pigs In Space Too - Chris Mann and Luke Johnson
Highest Finishing Female Skipper - Natarsha Moloney
Thanks to Humpybong Sailing Club for hosting a wonderful regatta. We can't wait for the HumpyBash in October!
---
2018 125 Nationals Queensland
As we go into the Winter Season it is time to start thinking about the upcoming Nationals being hosted by the QLD 125 Association at Humpybong Sailing Club. Organising an event of the size is not easy and the committee would really appreciate any help you could provide us with. If you are willing to help at all or have any ideas, please contact the association via email or through the associations facebook page, any help is appreciated!
---
Jason Brewer Memorial Race
Everyone came down on the 16th of November to compete in the Jason Brewer Memorial race. There was a great turn out at Brisbane Sailing Squadron with lots of young and old competitors as well as former 125 sailors making a guest appearance. With a fleet of 12 boats here's a brief overview of the results:
Scratch:
1st Doug Brewer and Jimmy 'J'
2nd Jenny Hawgood and Kye Hawgood 'Waterloo'
3rd Lily Geck and Xanthe Walker 'Imagine'
Handicap:
1st Josh Cox and Grant Steinback 'Oddly Enough'
2nd Anika Jovi McCarthy and Jonas Trefeu 'Feel Good Shift of the Summer'
3rd Dannica Streader and Megan Strauss 'Machavellian'
Although it was an overcast day, the racing was great and we all had lots of fun! It was an excellent race in preparation for this year's nationals in QLD! The fleet had raced two weeks prior in the River titles with a competitive fleet of 17 125's. With the regattas giving an opportunity for additional training and practice it is looking good for QLD at the fast approaching Nationals.
Lily & Xanthe
---
List of Accomodation for QLD Nationals in Brisbane 2013-2014
Please see the attached list of accomodation for staying in Manly, Brisbane for anyone traveliing from interstate!!
Any questions feel free to contact Jenny Anderson - Send Message
View:
125'S_ACCOMMODATION.docx
---
Notice of Race - QLD State Titles 29th -31st March 2013
The Notice of Race has been finalised for the QLD State Titles to be held over the Easter Long Weekend.
Two divisions - OPEN division for the more experienced and B division for sailors without spinnakers or who are competing for the first time.
We are expecting a large fleet so I hope to see you there!!!
Jenny Anderson
QLD 125 assoc secretary
View:
2013_Queensland_125_States NOR.doc
---
Thanks to the Old Committee
I would like to thank the QLD commitee for their ongoing help in running the association, I would especially like to thank the Anderson Family, the Robba Family, the Steinback the Brewer Family and many others for their ongoing help. A big thankyou to Brenda Steinback who stood down last year as secretary after being in the roll for many years.
As the season is about to kick off if you need any help in getting into 125, give me or a member of the committee a call.

Grant Steinback
QLD President
---
---
---
Happy New Year 2011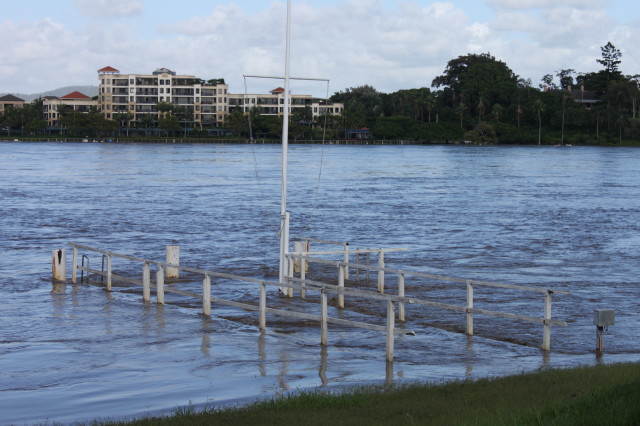 Welcome to 2011…in Brisbane the year has begun with a devasting flood which has affected homes and businesses throughout the city. Our river club Brisbane Sailing Squadron which is located down the river at Bulimba was untouched. We were very lucky. The attached photo shows the club jetty submerged. This Saturday 29th sees the club begin the year with the sailing of the 5th Club Championship.
No QLD boats made the trip to Perth this year for the Nationals so nothing to report there. However, congratulations to WA for their successful carnival and to all competitors.
In Queensland we are gearing up for our State Titles in April at Hervey Bay. The competition is going to be HOT… rumour has it that a certain Victorian who was made an honorary QLD years ago will be competing…. stay posted for more updates.
Jennifer Anderson (Waterloo 3121)
---
Come Try Day
0n the 7th of November Darling Point SS is thinking of having a 'Come Try' Day.
To make this a success the committee would like as many boats as possible to come down to help promote the class and club.
Further detials will be provided closer to the date.
Regards,
Grant Steinback
President
---
2010-2011 Season
Welcome to the start of the 2010-2011 sailing season. A few house keeping items, the sailing calenders for both Darling Point SS and Brisbane SS can be found at;
Darling Point Sailing Squadron http://www.dpss.org.au/calendar.asp
Brisbane Sailing Squadron http://www.bss.yachting.org.au/calendar/default.asp
Additional association events can be found in the latest newsletter including the Southeast Queensland Titles to be run in conjunction with the 'Battle for Waterloo' hosted by DPSS in early December.
New members are reminded that all boats must have a current measurement certificate to participate in association events. Please contact the President or measurer for details.
All members are reminded that in order to be eligible for entry into association events, they must be members of the QLD 125 Association.
Regards
Grant Steinback
President
View:
2010_July_125er.pdf
---
Riverfest May 15 & 16th Noosa
125ers are invited to the Noosa Yacht Clubs Riverfest. See the Notice of Race for more details
View:
Riverfest NOR 2010 _1_ _3_.pdf
: Notice of Race
---
---
---
---
Qld Happenings - October
This season has started out slowly, with fleet numbers being down. 125 fleets are currently racing out of both the Brisbane Sailing Squadron and the Darling Point Sailing Squadron. As always we are keen to see both new and old boats on the water so drag the boat out of the corner in the garage dust her off and come sailing down on the river or bay!
Early this year the association purchased 'STARBUG' sail number 3026, former national championship winning boat for the use of member and potential members. However due to a few years of idle neglect the boat is currently under restoration by John Anderson and myself. It is the aim of the committee to have the boat on the water and available for hire at DPSS for any and all potential members.
The annual South East Queensland championships is being held in conjunction with the DPSS GRFC regatta. The 125 SEQ titles will be held on Saturday the 12th and Sunday the 13 of December. A notice of race will be released when the details are finalised.
If members who currently have 'project boats' require assistance, don't forget that the committee is just an email of phone call away!
Finally and importantly the South Australian division of the National Executive Committee (NEC) has called for agenda items for the 2009-2010 national conference. This is where any changes to the constitution and Rules of construction and measurement are voted on. Each state is asked to submit rule changes 8 weeks before the conference. Currently the QLD division has no items to put forward to vote on. For changes to the rules of construction and measurement 2 votes are required to pass an amendment to the rules. There are currently a number of rules up for their second vote. When the agenda is released by the NEC the QLD committee will review the proposed changes and circulate its decision for the members review prior to the NEC conference.
If you have any questions on any of the items I have discussed please drop me an email or give me a call.
Grant Steinback, QLD State President
---
MATERIALS FOR BUILDING A GRP 125 HULL.
If anyone is interested in building their own GRP 125 from scratch, then all the materials for building a bare hull, ready to rig(eg resin, glass, foam, wood) can be provided as well as my mould to build the boat from. Information and help on building the boat can also be provided. Total price about $1500
Any questions please email me.
---
RUDDER BOXES
Aluminium proven design.
Supplied with aluminium cheeks and 1.5m aluminium box section to fabricate and assemble rudder box and tiller. $60