---
The 2023/24 National Titles will be held at Black Rock YC, Victoria from 28 December to 4 January.
The NOR is below.
Entries can be made via Trybooking: https://www.trybooking.com/CJFLZ
We are work on cheap accomodation at a nearby scout hall (camping and in the scout hall) and expect to have details soon.
For more accomodation or other details please contact:
Geoff Craig - Vic President - geoff.craig100@gmail.com or 0417 508 483
Morwenna Griffiths - Black Rock representative - morwenna@griffithshunt.family or 0401 491 051
View:
BRYC 125 Nationals NOR Final.pdf
---
---
---
2021/22 National titles are cancelled.
A meeting was held on Sunday the 7th November between the states regarding this years planned National Titles at Blackrock in Victoria with the final descision being made to cancel the event for this year. With border restrictions still in place for Western Australia and Queensland making it not possible for these states to attend. I would like to thank the Victorian Assciation for all their hard work to date in preparing for this year.
The rotation of Nationals has been restored to "pre COVID" with 2022-23 Titles back in Perth at SoPYC, that gives everone in the eastern states enough time to organise accommodation, flights, boat transport or even build a new boat. After two years of no Nationals I am looking forward to seeing you all in Western Australia next year.
Cheers
Pete Mann
But there is the BRYC Christmas regatta!
---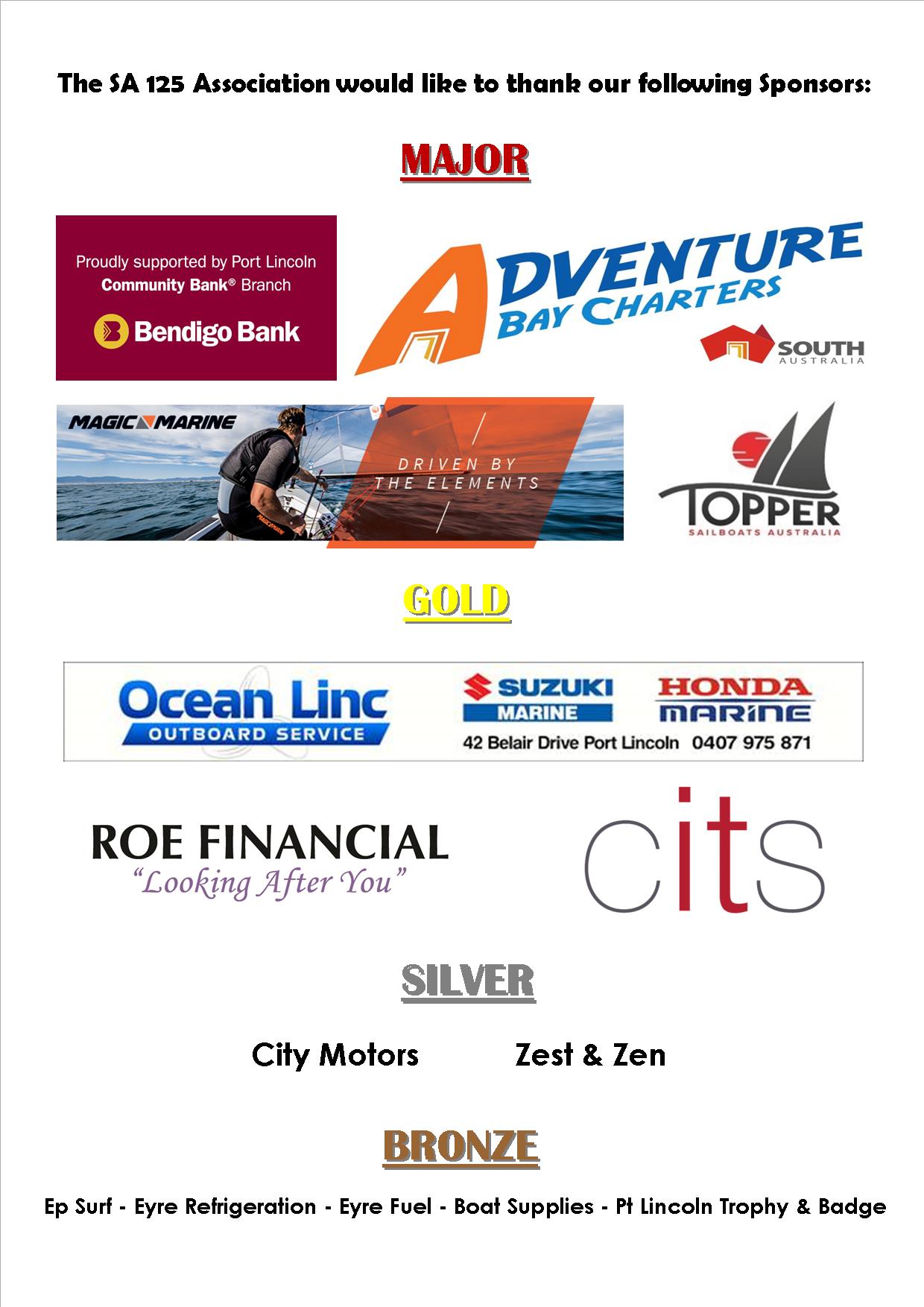 ---
43rd 125 National Titles 2019/20 - Port Lincoln, South Australia
The SA 125 Association would formally like to invite you to the 43rd 125 National Titles 2019/20 in Port Lincoln, SA. The regatta will be held on the waters of Boston Bay at the Port LincolnYacht Club, South Australia.
Registrations are now open and the Notice of Race is attached below.
View:
2019-20 43rd Nationals NOR - Final.pdf
---
42nd 125 National Titles Results
Results for the 42nd 125 National Titles can be found at the below address. Please copy and paste the address.
https://www.sailwave.com/results/125%20Association%20National%20Championships%202018.htm
---
2018/19 National Titles Rule Amendment
For all competitors of the 2018/2019 National Titles at Humpybong Yacht Club, a rule amendment has been made within the Notice of Race.
Rule 3.5 has been amemded to: "All competitors shall be members of the National 125 Class Association and a club affiliated with Australian Sailing or a World Sailing MYA".
For any enquiries please contact the Queensland 125 Association via email - qld125s@outlook.com
---
2018/19 125 Nationals - Humpybong, Queensland
---
42nd 125 National Titles 2018/19 - Humpybong, Queensland
The Queensland 125 Sailing Association would formally like to invite you to the 42nd 125 National Titles 2018/19 in sunny Queensland. The regatta will be held on the waters of Bramble Bay from Humpybong Yacht Club, Woody Point, Queensland. Registrations are now open and the Notice of Race can be found through the following link:
https://www.revolutionise.com.au/hyc/events/28502/
We can't wait to see as many boats as possible out on the water enjoying the beautiful Queensland weather and a wonderful atmosphere. For any inquiries, please contact the Queensland Association via email: Send Message